Claire Johnson Flute Soloist Competition
The Claire Johnson Flute Soloist Competition honors excellence in flute performance and artistry in music making. The competition is open to all flutists through grade 12.
Competition Dates
All Preliminary Round entries must be received by 11:59 PM EST on June 30, 2021
Finalist Announced July 10
Live Final Round (virtual) July 17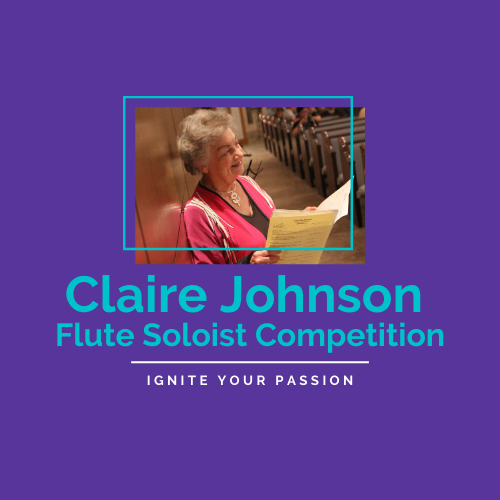 ---
Categories
Students may enter the appropriate division or may choose to compete one level higher.
Elementary Division (completed 6th grade or lower)
Junior Division (completed 7th, 8th, or 9th grade)
Senior Division (completed 10th, 11th, or 12th grade)
Awards
All judges' decisions are final.
All entrants will receive comment sheets from the judges.
First Place

Senior Division ($300)
Junior Division ($200)
Elementary Division ($100)

Honorable Mention

Honorable Mention Winners will be named in each category at the judge's discretion.

Audience Favorite

Audience Favorite will win a Floot Fire book of your choice and Floot Fire swag.
---
Preliminary Round
Winners of the Virtual Soloist Competition or previous CJFS Competitions must choose new repertoire. You may  NOT repeat winning repertoire. (This does not apply to people who received honorable mention).
Contestants must perform a piece for flute no longer than 6 minutes in length. (Please make cuts if necessary.)
Contestants may perform a single movement from a piece or an entire work of their choice.
Contestants will upload a video to their application (see instructions below).
Finalists will be announced on July 10.
Final Round
Finalists will perform a live final round (virtually) on July 17. (Instructions will be sent to all finalists on July 10)
Works may be no longer than 10 minutes in length and must include the piece performed in the preliminary round. This allows students to remove cuts made in the preliminary round or add another short movement from the same work if they choose.
Cost to Enter
Floot Academy Participants $45
Non-Floot Fire Camp or Floot Academy Participants $55

---
Competition Rules
The Claire Johnson Flute Soloist Competition is open to all flutists. You do not have to attend a Floot Fire workshop to participate.
The competition consists of a preliminary round audition and a final round recital, both held virtually.
Students may enter the appropriate division or may choose to perform one level higher.
Floot Fire reserves the right not to pick a 1st place winner in a division.
Flute entries only (no piccolo or low flutes).
Contestants must make new recordings for this competition. Do not submit videos from previous performances or Floot Fire Competitions. See above regarding repertoire choices.
US residents only.
Void where prohibited.
Accompaniment
Accompaniment is NOT required. Students may perform works for flute with or without accompaniment.
If a piece is written for flute and piano you have three options:

Perform without accompaniment (please observe rests of two measures or less).
Perform with recorded accompaniment or SmartMusic.
Perform with accompaniment (live pianist, observing appropriate social distancing practices).

There is NO penalty for performing without accompaniment.
Rules for Recording
At the beginning of your recording you must say: "This is my entry for the Claire Johnson Flute Soloist Competition," followed by your name, age, and title/composer of your piece.
No editing! The recording must be done in one take.
You may use whatever device is easiest for you with the best sound quality available: phone, tablet, or computer.
Do not add reverb to your recording.
Caption your video with your name and category. Examples: Rhonda Rose, Elementary or Sally Smith_Junior
Recording Tips
Find a quiet space for your recording.
Please limit visual distractions such as highly decorated walls and personal items.
Dress nicely, you are on camera!
Try to get as much of your body and instrument in the frame as possible. We want to see you perform!
Use an external mic to improve your sound quality if possible. (not required)
Listen to your recording before you hit submit!
Submission Procedures
Click on the blue button on the left of this page and fill out the application on our website.
Upload your video to any open source video sharing platform (YouTube, etc.). You may set your viewing options as PUBLIC or UNLISTED. Be sure that whatever setting you choose allows for a working shared link.
Provide a link to your video on the application. Be sure it works!!!!!
If possible, upload a scanned copy of the music score (the flute and piano part) to a file sharing platform (like Google Drive) and provide a link. This step is not required but helps our judges provide more thorough comments. We recommend you delete the file after the winners are announced.
Audience Favorite
Additionally, if you would like a chance to win Audience Favorite you may post your video to our Woobox contest gallery. This portion of the competition is not required; Audience Favorite is a separate honor. To participate in Audience Favorite you must first submit your solo entry on our contest website and pay all applicable fees.
How to Enter Audience Favorite *(Rules subject to change)
You may post directly to our contest gallery on the Floot Fire homepage. www.flootfire.com
You can also participate in Audience Favorite by posting your video on Instagram, Twitter , or Facebook and include the hashtags #flootfire #cjfloot

Instagram:

Post to your page. Your video and Instagram account must be set to PUBLIC.
You MUST include both of these hashtags to be eligible #flootfire #cjfloot

Twitter:

Post to your page. Your video and Instagram account must be set to PUBLIC.
You MUST include both of these hashtags to be eligible #flootfire #cjfloot

Facebook:
Voting for Audience Favorite *(Rules subject to change)
Voting occurs at our Woobox contest gallery
You can share your unique video code on your social media pages.
The video with the most likes wins!
Only one vote per IP address.

---
Questions?
Please contact Ellen Kaner at ekaner@aol.com or (817) 691-7198 (cell).
---
Congratulations to our 2020 Winners!
Elementary
Winner Stephanie Kim
2nd Place Yixuan Chen
3rd Place Ram Sumedh Besta
Honorable Mention Max Kutner, Nirujen Manoharan, Soomin Oh, Sydney Park
Junior
Winner Lindsey Won
2nd Place Ayne Park
3rd Place Akshara Sankar
Honorable Mention Sasha Blackman, Hannah Lee, Michael Stoica, Stella Su, Lily Yang
Senior
Winner Subee Kim
2nd Place Emily Park
3rd Place Elizabeth Garcia
4th Place Ingrid McDuffee
Honorable Mention Chris Boyadjiev, Maggie Chvatal, Wei Wei Guo, Nathan Le, Diana McGrory
Audience Favorite