Class Levels
Students of all levels of proficiency are eligible to participate. Students should have played flute at least one year.
There are 2 flexible levels of classes:
Allegro: for flutists in grades 6-8 during the most recent school year
Presto: for flutists in grades 9-12 during the most recent school year
Scholarships
Floot Fire offers financial assistance to students who could not otherwise attend our workshops. All scholarships are need based.
Floot Fire awards partial scholarships only.
Late fees and additional purchased items, such as photos and books, are not eligible for scholarship.
Deadline for full scholarship consideration is May 1. Applications received after that date will be still be considered but only on an "as available basis."
Submission of the scholarship application is not a guarantee of an award.
If you have qualified for scholarship in the past you are encouraged to reapply however, previous awards do not guarantee future awards.
A scholarship application does not replace the workshop registration form. All scholarship applicants must register for a workshop online.
All information submitted to Floot Fire Inc. will be held in strict confidence and permanently destroyed after the application is processed.
Schedule
Our flexible daily schedule includes: masterclass, electives, chamber music, flute choir, and recitals. Our flootful days cover flootastic topics such as  breathing, tone, articulation, intonation, vibrato, technique, stage presence, practice habits, Body Mapping, Alexander Technique, performance tips, working with an accompanist, and much more!
Master Class
In master class students will work on musical interpretation, tone, stage presence, relaxation techniques, and much more! Students should be prepared to play two times in performance class. It is preferred that two different works or different sections from one piece be performed. Students must provide their own original piano parts. Flootastic pianists will accompany each performer however unaccompanied works are acceptable. Students may audit the class if they prefer not to perform.
Faculty Recitals
Faculty recitals take place daily at 1:15 p.m. They are free and open to the public.
Grand Finale Concert
A Grand Finale Concert will top off the week. Students will perform a class flute choir piece, a chamber ensemble, elective class music and a mass flute choir piece with all students and faculty performing in-the-round style. The concert is free and open to the public. A reception will follow.
Electives
Two elective periods allow students to choose courses of study that interest them most. Elective classes are open to all age levels unless otherwise indicated. Specialty instruments will be provided, some at an additional cost. Please indicate if you can provide your own specialty instrument.
Elective Session 1
(choose one class)
Beginner Piccolo (Allegro)
Learn the first steps in playing the piccolo. This class is for students with little or no piccolo experience.
Contemporary Techniques (Presto)
Beginning in the 20th century, composers began to experiment with new sounds that could be produced by our modern flute. These techniques have been used to expand the palette of flute sounds, evoke new moods, and also help strengthen and reinforce traditional playing techniques. Students will learn techniques such as Harmonics, Multiphonics, Flutter Tonguing, Singing and Playing, Beatboxing, and more!
Flooty Yoga
The name says it all. Wear comfortable clothing and bring a towel or a yoga mat.
Elective Session 2
(choose one class)
Contemporary Techniques (Allegro)
Beginning in the 20th century, composers began to experiment with new sounds that could be produced by our modern flute. These techniques have been used to expand the palette of flute sounds, evoke new moods, and also help strengthen and reinforce traditional playing techniques. Students will learn techniques such as Harmonics, Multiphonics, Flutter Tonguing, Singing and Playing, Beatboxing, and more!
Beginner Piccolo (Presto)
Learn the first steps in playing the piccolo. This class is for students with little or no piccolo experience.
Alexander Technique/Body Mapping
Discover ways to alleviate pain, avoid injury, and improve technique through Body Mapping and Alexander Technique.
Faculty
Dr. Kimberly Clark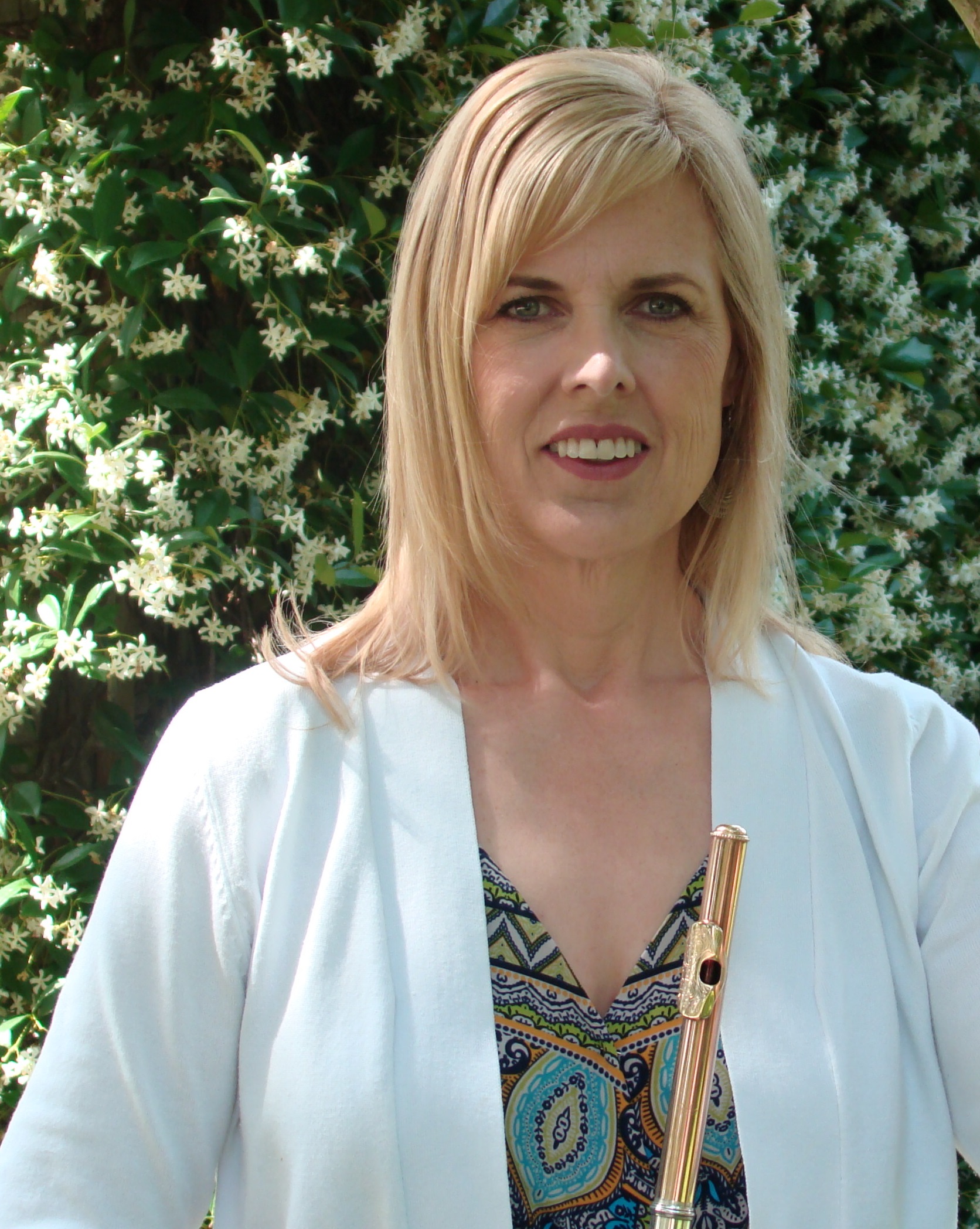 Kimberly Clark, Executive Director of Floot Fire Inc., is an active recitalist and chamber musician who has performed across the United States and in Europe. She is a member of Scirocco Winds, a woodwind quintet dedicated to the promotion of modern American works.
Formerly on faculty at the University of Houston Moores School of Music, Dr. Clark is highly sought as a teacher and clinician. She has performed, lectured, or conducted at National Flute Association's conventions in Charlotte, Kansas City, Albuquerque, Nashville, Las Vegas, New York, and Dallas. Dr. Clark has also been a guest artist at the Florida Flute Fair, Costal Bend Flute Symposium, Kentucky Flute Society, Texas Flute Society, Texas Bandmasters Association, and Texas Music Educators Association. She has also performed and given masterclasses at universities across the US.
Dr. Clark's interests are wide and varied. Her publications include a transcription of Ibert's Histoires for Flute and Piano (available from Leduc) and articles in Flute Talk Magazine and the Flutist Quarterly. She is an ATI Certified Alexander Technique teacher and a licensed Andover Educator teaching Body Mapping to musicians.
Dr. Clark is the Director of Floot Fire Austin, Boston, Brownsville, Dallas, Evansville, Houston, New York, and Oklahoma City. She has served the National Flute Association on the Board of Directors, as the Flute Clubs Coordinator, and as the Piccolo Artist Competition Coordinator. Dr. Clark is former President and Flute Fest Coordinator for the Houston Flute Club.
Dr. Clark's primary teachers include Timothy Day, Aralee Dorough, Byron Hester, Claire Johnson, John Thorne, and Peggy Russell. She studied privately and performed in masterclasses for over 20 world renown flutists including: Julius Baker, Jeanie Baxtresser, Walfrid Kujala, Louis Moyse, Jimmy Walker, and Carol Wincenc.
Dr. Amy Likar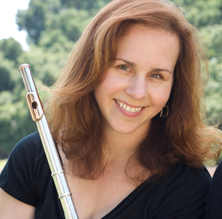 Amy Likar, flute and piccolo, is a San Francisco Bay Area based performing and teaching artist. Equally at home in an orchestra, as a chamber musician or as a soloist, Amy is also a passionate and committed teacher of all ages. As member of the Oakland Symphony, she is committed to the symphony's mission of classical music for all and mentors for their Music for Excellence Program and advocates for music education on a regular basis.
For almost twenty years she has been an innovator and educator for musicians' wellness as a teacher of Body Mapping and the Alexander Technique. She is the Director of Training for Andover Educators, a not for profit organization of music educators committed to saving, securing, and enhancing musical careers by providing accurate information about the body in movement.
Amy has been a soloist and guest artist at colleges and universities throughout the United States and Europe and a frequent performer and presenter at conferences and conventions throughout the world.
Dr. Likar holds Master of Music and Doctor of Musical Arts degrees from The Ohio State University and a Bachelor's in Music Education and Flute Performance from Kent State University. Her flute teachers include Martha Aarons, Katherine Borst Jones, Randy Hester, Peter Lloyd and Tim Day. In 1991-92, Ms. Likar taught high school English in Swaziland, Southern Africa.
As a licensed Andover Educator, Ms. Likar has presented "What Every Musician Needs to Know About the Body" at  the University of New Hampshire, the Guildhall School of Music and Drama in London, England, Cal Summer Arts, Holy Names University, Columbus State University (GA), Clayton State University, St. Olaf College,  the San Francisco Conservatory of Music and other venues across the county and Europe. Ms. Likar has presented the work at multiple conferences including National Flute Association Conventions, Performing Arts Medicine Association Symposiums and the Music Teachers National Association Tri-Conference.
She is the Director of Training for Andover Educators and served as their President for 7 years during their formation as a non profit for continuing education and professional development for musicians.
Ms. Likar has studied the Alexander Technique for over 20 years and received her teaching certification and training from the Alexander Training Institute of San Francisco, studying with Frank Ottiwell, Robert Britton, Larry Ball, Rome Earle, Simone Biase and John Coffin. She has also studied the Alexander Technique and Body Mapping over the past 20 years with Barbara Conable. She is a member of the American Society of the Alexander Technique (M.AmSAT) and Alexander Technique International.
Ms. Likar maintains an active studio and coaches young students to professionals. She works with singers and instrumentalists on enhancing greater freedom and ease both physically and musically.
Katrina Walter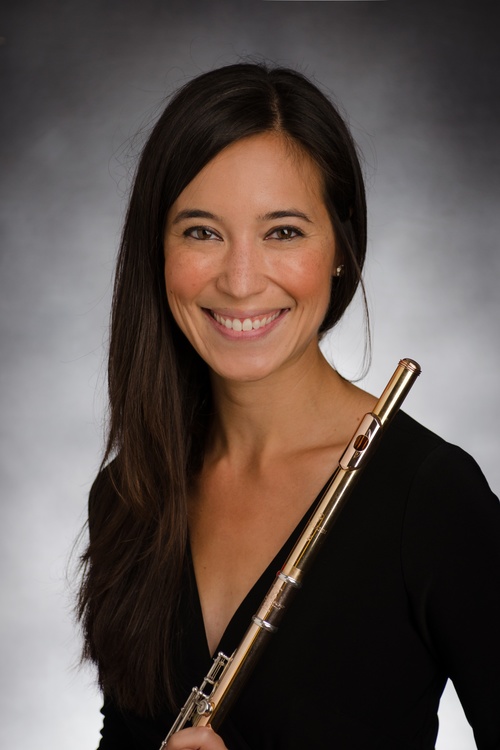 Flutist Katrina Walter's orchestral career has led her throughout the United States, Eastern Europe, and South Korea.  As a member of the New World Symphony from 2007 to 2011, she performed regularly under the baton of renowned conductor Michael Tilson Thomas.  Currently a freelance flutist in San Francisco, Katrina is a member of the Marin Symphony.
Ms. Walter has been fortunate to work with many world-class musicians, including noted conductors such as Marin Alsop, Rafael Frübeck de Burgos, Miguel Harth-Bedoya, Oliver Knussen, James Levine, Lorin Maazel, Sir Neville Marriner, Kurt Masur, Peter Oundjian, David Robertson, Donald Runnicles, Leonard Slatkin, Robert Spano, Michael Stern, Osmo Vänskä, Mark Wigglesworth, and David Zinman. In 2008, Katrina was privileged to perform chamber music with world-famous flutist Paula Robison, and she has shared a stage in an orchestral setting with artists such as Emanuel Ax, Yefim Bronfman, Jeremy Denk, Vladimir Feltsman, Renée Fleming, Alban Gerhardt, Garrick Ohlsson, Itzhak Perlman, Peter Serkin, and Gil Shaham. In 2012, Katrina served as Guest Principal Flute of the Buffalo Philharmonic Orchestra, appearing on three of their Naxos label recordings. She has performed with the San Francisco Symphony and the Utah Symphony, and has been a frequent substitute musician for the Saint Louis Symphony Orchestra and Florida Grand Opera.
Also accomplished as a soloist, Katrina's solo performance highlights include winning the 2006 concerto competition at the Music Academy of the West, as well as flute recitals on the Dame Myra Hess Memorial Concert Series, the Orpheus Young Artist Series, and the Noonday Concert Series at the Fourth Presbyterian Church of Chicago. She has performed concerti with the Marin Symphony and at the Festival Mozaic in San Luis Obispo. Radio broadcasts of her recitals and other solo performances have been featured on classical music stations WFMT-Chicago, WNIB, and KDB-FM. Katrina has been a winner of competitions sponsored by the New York Flute Club, Union League Civic and Arts Foundation of Chicago, Musicians Club of Women, Flute Society of Washington, Society of American Musicians, Chicago Flute Club, Music Teacher's National Association, and National Flute Association.
A graduate of Northwestern University (BM, summa cum laude) and the San Francisco Conservatory of Music (MM), Katrina has also studied and performed at a number of music festivals: the Tanglewood Music Center, the Music Academy of the West, and the Aspen, Spoleto USA, and Castleton Music Festivals. Her principal teachers were Timothy Day, Walfrid Kujala, and Donna Milanovich, with additional influence from Donald Peck, Richard Graef, and Mark Sparks.
Monica Williams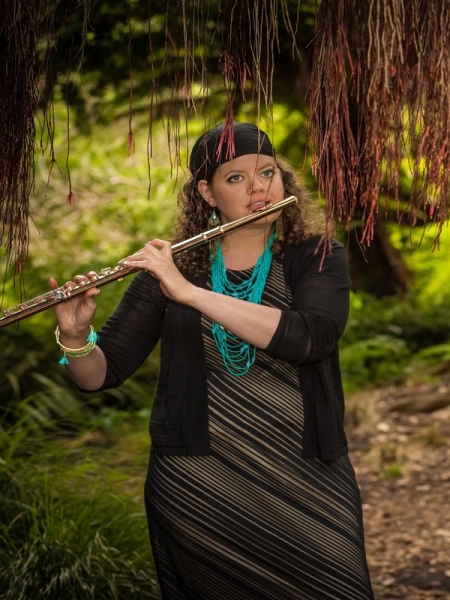 Monica was classically trained at the Eastman School of Music. She has studied with several esteemed flutists such as Bonita Boyd, Susan Levitin, and Brad Garner.
After graduating Monica found a deep love for the sounds of various world and hybrid flutes that called her to New Age music. It is a genre with classical, jazz and world music overtones that is intended to inspire, relax, and create optimism. In addition to C flute, her flute collection includes bamboo, Native American, pan, alto, and bass. Her newest addition is a hybrid flute extension called the 'Zi Fi', which is a fusion flute that crosses a traditional flute with a Chinese Dizi and a reed instrument.
She co-founded the ensemble Phoenix Rising and is a freelance flutist for various groups and recording projects in the area. She currently has four CD's including 'Whispers' by Phoenix Rising, 'Ascension' by Phoenix Rising, 'Mystic Places' by Phoenix Rising, and 'Silences Between' by Monica Williams. Phoenix Rising can be heard on radio stations including 'Soundscapes' by Music Choice and 'Spa Channel' by SiriusXM.